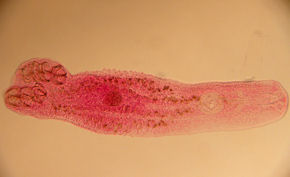 Society News Updates:
It is our pleasure to announce that Dr. William C. Campbell, 2015 Nobel Laureate, was elected to Honorary Membership in the society. Honorary membership is limited to 10 individuals who have demonstrated outstanding contributions to the field of parasitology.

Vince Connors is the Editor of Comparative Parasitology. Please send your manuscripts to vconnors@uscupstate.edu.

Information concerning manuscript preparation has been updated.
Society Meetings:
The very successful 2017 Spring Scientific Meeting of the Society (717th)
was held on April 8th at Salisbury University, Salisbury, MD with Dr. Ann Barse serving as host. The meeting started with a continental breakfast followed by two oral presentation sessions, posters, lunch, and a business meeting conclusion.
The 2016 Anniversary Dinner Meeting (716th) was held on November 4th at the Fisherman's Inn and Crab Deck, Kent Island, MD. We are pleased to announce that William E. Moser was the recipient of the 2016 Anniversary Award.
The 2016 Spring Meeting (715th) was held at George Washington University, Washington, DC on April 22-23, 2016. The meeting kicked off with a reception followed by the keynote address by 2015 Nobel Laureate, Dr. William C. Campbell. The meeting continued on Saturday with oral presentations by scientists and students. Stirewalt-Lincicome Student Awards were presented to those students giving the best student talks.
The 2015 Anniversary Dinner Meeting (714th) was held on October 23rd at the Big Fish Grille, Crofton, MD.
It is our pleasure to announce that Dr. Richard E. Clopton was the recipient of the 2015 Anniversary Award
Photo: Octomacrum spinum from gills of Campostoma anomalum in the Great Smoky Mountains National Park.