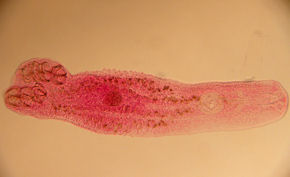 Society News Updates:
It is with regret that we announce the deaths of Allen W. Cheever, John E. Hall, Harold J. Jensen, Raymond V. Rebois, Norman F. Weatherly, and Judith H. Shaw, a long-time member and benefactor of the society,.
Vince Connors is the Editor of Comparative Parasitology. Please send your manuscripts to vconnors@uscupstate.edu.
Society Meetings:
Save the date: The 2017 Spring Scientific Meeting of the Society (717th) will be held on April 8th at Salisbury University, Salisbury, MD with Dr. Ann Barse serving as host (See "Officers" tab for Dr Barse's contact information). Information on accommodations, food and a campus map showing meeting location is now available at (Information and campus map) . Registration and abstract information is available on the "Meetings" tab.
Student oral presentations are always welcome, and best presentation prizes are awarded to both undergraduate and graduate students..
The 2016 Anniversary Dinner Meeting was held at 7:00 pm on November 4th at the Fisherman's Inn and Crab Deck on Kent Island, MD. A good time was had by all who attended. It is our pleasure to announce that William E. Moser was the recipient of the 2016 Anniversary Award of the Society.
The 2016 Spring Meeting was held on April 22-23 at George Washington University, Washington, DC. 2015 Noble Laureate William C. Campbell gave the Friday evening keynote speech. The meeting continued on Saturday with oral presentations by scientists and students. Three Stirewalt-Lincicome prize winners were selected from among the students.
The 2015 Anniversary Dinner Meeting was held on Friday, October 23rd at the Big Fish Grille, Crofton, MD.
The 2015 Spring Meeting of the Helminthological Society of Washington was held with the Southeastern Society of Parasitologists (SSP) at Virginia Tech University, Blacksburg, VA on April 9-11, 2015.
Photo: Octomacrum spinum from gills of Campostoma anomalum in the Great Smokey Mountains National Park.