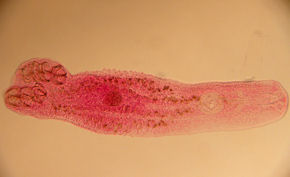 Society News Updates:
It is our pleasure to announce that Dr. William C. Campbell, 2015 Nobel Laureate, was elected to Honorary Membership in the society. Moreover, Richard E. Clopton was named the 2015 recipient of the Helminthological Society of Washington Anniversary Award for his outstanding service to the society and to the field of parasitology.
Congratulations to the 2016 Stirewalt-Lincicome Student Award winners First place, Rita Grunberg; second place, Craig Hollander and James Bernoit, honorable mention. A newly established award, the Judith H. Shaw Award went to Shannon Kitchen for the best undergraduate presentation,
Vince Connors is the Editor of Comparative Parasitology. Please send your manuscripts to vconnors@uscupstate.edu.
Society Meetings:
Save the Date for the Anniversary Dinner Meeting for members and their guests which will be held at 7:00 pm on November 4th at the Fisherman's Inn and Crab Deck on Kent Island, MD (just over the Chesapeake Bay bridge). Details are given on the Meetings tab.
The 2016 Spring Meeting, including a keynote address by a 2015 Nobel Laureate, Dr. William C. Campbell, began on Friday evening, April 22nd at the George Washington University School of Medicine, Washington, DC. The meeting continued on Saturday, April 23 with the scientific session of presentations by members, guests and students.
The 2015 Anniversary Dinner Meeting was held on October 23 at the Big Fish Grille, Crofton, MD.
The 2015 Spring Meeting of the Helminthological Society of Washington was held with the Southeastern Society of Parasitologists (SSP) at Virginia Tech University, Blacksburg, VA on April 9-11, 2015.
Photo: Octomacrum spinum from gills of Campostoma anomalum in the Great Smoky Mountains National Park.